The Museum is conveniently located off of I-95 at exit 102 Pooler, GA. Just 2 miles south of the Savannah International Airport exit and minutes away from the heart of downtown Savannah, GA
From I-95 North: Take I-95 North to exit 102 and turn right. Take a left at first light.
From I-95 South: Take I-95 South to exit 102 and turn left. Take a left at second light.
From Downtown: Take Hwy 80 (Bay Street) west toward Garden City/Pooler. Travel approximately 10 miles. Turn right onto Bourne Avenue, just before I-95 entrance ramps.
Questions?
| Department | Name | Title | Ext. | Email |
| --- | --- | --- | --- | --- |
| Administration | Scott Loehr | President and CEO | Ext. 107 | sloehr@mightyeighth.org |
| | Sheila Moore | Executive Administrative Assistant | Ext. 107 | smoore@mightyeighth.org |
| | Lisa Collier | Capital Campaign Manager | Ext. 101 | lcollier@mightyeighth.org |
| Visitor Services | Kristen Gaboriault | Visitor Services Director | Ext. 120 | kgaboriault@mightyeighth.org |
| | | E-Commerce | Ext. 117 | |
| | | Admissions/Ticket Sales | Ext. 118 | |
| | | Museum Store | Ext. 116 | |
| Advancement | Pearl Fyderek | Director of Advancement | Ext. 166 | pfyderek@mightyeighth.org |
| | Gary Worst | Advancement Associate | Ext. 103 | gworst@mightyeighth.org |
| Education | Heather Thies | Director of Education and Volunteers | Ext. 106 | hthies@mightyeighth.org |
| Educational Travel | Mark Copeland | Director of Educational Travel | Ext. 161 | mcopeland@mightyeighth.org |
| Marketing | Dawn Brosnan | Director of Communications and Marketing | Ext. 165 | dbrosnan@mightyeighth.org |
| Research Center | Vivian Rogers-Price | Research Center Director | Ext. 108 | vrogersprice@mightyeighth.org |
| | Judy Roddy | Reference Specialist | Ext. 110 | jroddy@mightyeighth.org |
| | Tiffany Bueno | Archival Specialist | | tbueno@mightyeighth.org |
| Events | Lindsay Rogers | Director of Meetings, Tours & Special Events | Ext. 124 | events@mightyeighth.org |
| | Sean O'Dwyer | Interim Director of Meetings, Tours & Special Events | Ext. 160 | events@mightyeighth.org |
| Finance and HR | Pam Vining | Director of Finance and Human Resources | Ext. 104 | pvining@mightyeighth.org |
| Facilities | | Facility Manager | Ext. 164 | |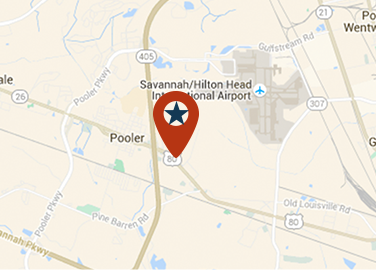 Plan Your Visit
Monday: Closed
Tuesday - Saturday: 10 am - 5 pm
Sunday: 12 pm - 5 pm
Open Memorial Day Policies >
175 Bourne Avenue, Pooler, GA 31322 Get Directions >