The chapel was built in 2002 to reflect a gothic-style English chapel of the sixteenth century. Like English chapels of that period, the Chapel of the Fallen Eagles has an east-west orientation with the front door facing west and the centerpiece window facing east.
The sanctuary has fourteen pews that came from Jones County, Pennsylvania, that were crafted in the late nineteenth century. The railings, lectern and choir stalls are also vintage pieces found in antique shops in Tennessee and Georgia.
The most impressive features of the chapel are the stained glass windows. These windows have been provided by Eighth Air Force veteran groups or family members. Jon Erickson is the artist and creator of the windows from the concepts presented to him by these groups. Aurora Glass studios of Savannah produced the windows. 
Inside the Chapel of the Fallen Eagles is an exhibit dedicated to war brides. After World War II, around 45,000 British women emigrated to the United States, following their husbands or fiancees. British parents, whose daughters had married American and Canadian servicemen, founded the Transatlantic Brides and Parents Association (TBPA) in 1947. Located in the Narthex of the chapel and sponsored by TBPA, the exhibit features selected British war brides and their Eighth Air Force husbands along with a leather-bound Bible donated by TBPA.
The Chapel is available for weddings, memorial services and church services by special request.
A select group of these stained glass windows is described below.
Centerpiece Window
This window is from the 96th Bomb Group duplicating their original chapel window placed in the local chapel near their airbase in Snetterton-Heath. The 96th flew 321 missions in B-17F and B-17G bombers. During the first five months of 1944 they sustained the highest loss rate of all Eighth Air Force groups and overall suffered the second highest MIA losses over the course of the conflict.

The dedication reads: "In Memory of Comrades Who Gave Their Lives in the Cause of Freedom, We have not Forgotten."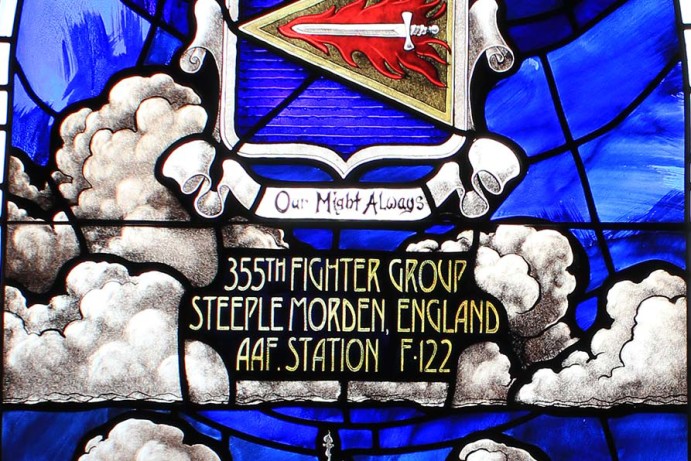 355th Fighter Group Window
The 355th Fighter Group was stationed in Bodney, England from July 1943 through February 1945. They flew the P-47D Thunderbolt and P-51B Mustang. The group claims 519 enemy kills in the air and 287 on the ground.

The central focus of the window is the emblem of the 355th. Above flies the P-47 and P-51 airplanes. The Eighth Air Force wings rest at the apex of the window and below are three logos for the fighter squadrons.

The 355th Fighter Group is one of the few WWII groups that still exist today. They fly the A-10 War Hog airplane with their headquarters in Tucson, Arizona.
William Sidney Wilson Window
William Sidney Wilson was a pioneer aviator in WWI and was the uncle of window donor John Herrin. He flew the Martin Bomber depicted banking in flight above a country church against a bright blue sky.
7th Photo Recon Group Window
The 7th Photo Recon Group was the only long range, high altitude strategic Photo group assigned to the Eighth Air Force during WWII. The group was in combat from March 1943 to VE Day taking over 3 million intelligence photos while flying 5693 missions*. Twenty-three pilots were taken as POW's, seven were Escape and Evadees, and 62 paid the supreme sacrifice.

The photo recon P-38 and Spitfire fly above reproductions of the Group's squadron patch emblems. In the film scroll at the bottom of the window is inscribed "In Honor of all 7PRg Who Served."

* That total would be an average of over 7 missions per day for their entire combat duration (March 1943 – April 1945 = approx. 790 days, 5693 / 790 = 7.2)